Hey everyone!
I'm in Wales at the moment visiting my mum so I might be a bit lazy on the blog posts this week. It's not that I don't have my laptop, camera and the Internet but I seem to still be a bit tired from the long drive up (5 hours - speeding all the way.)
Me and the mum went to Bangor for a bit of shopping and I bought this cardigan:
Red Herring £25.40
They have a 20% off sale on at the moment in Debenhams so it was only £25. There were only 2 left so I ended up buying a size 14! There is no way it would fit a size 14 woman though.
I'm going to be channeling "English Heritage" for the winter season. Think wax jackets, Aran knits and scarves! And maybe some nice riding boots.
I also tried on this cape expecting it to look silly (as I'm only 5") but actually really love it. Shame it's £40.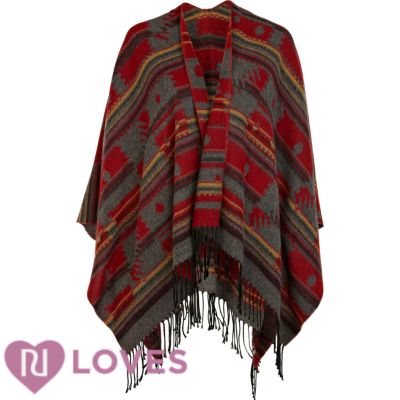 Aztec print cape- River Island.
I found a similar one in TK Maxx that was only £16.99 but it wasn't such a good colour....
In other news, I was given a blog award! I will post about it when I have a bit more energy :)
I would love to be at Fashion's Night Out in London this evening but I'm happy enough to read the posts of the bigger bloggers to see what I'm missing. Did you go?