As you may have noticed from my previous posts, I love a peter pan collar as much as the next girl. However, as I also keep mentioning, I paid my car insurance this month and therefore don't have endless money for new things. Sad face.
So I decided that DIY was the only way to go - and preferable with materials I already had around the house! This diy is using the pattern form an old edition of Mollie Makes magazine but the rest is all original!
Here's what you'll be making:
Diy felt peter pan collar necklace
And you'll be glad to hear that it's super simple. The best diy's always are.
First up, raid your fabric stash for some felt. Ideally it needs to be quite good quality so that it has a little stiffness to it. Not essential.....mine certainly wasn't.
Cut yourself a template out of card - this makes it easy to reuse.
Felt scraps and a cardboard template.
 Then pin your template to your chosen scrap of felt and cut out two "collar" shapes.
Next, you need to sew a length of ribbon to each end - this gives you something to tie your necklace with!
Add a cute button or bow to the middle - use tiny stitches to link the two pattern pieces in the middle.
Et voila!! Customise to your hearts content! Here's mine in action:
Here are few ideas from google images to get you started:

From wendyward.wordpress.com

From fashioncollars.wordpress.com
A full collar.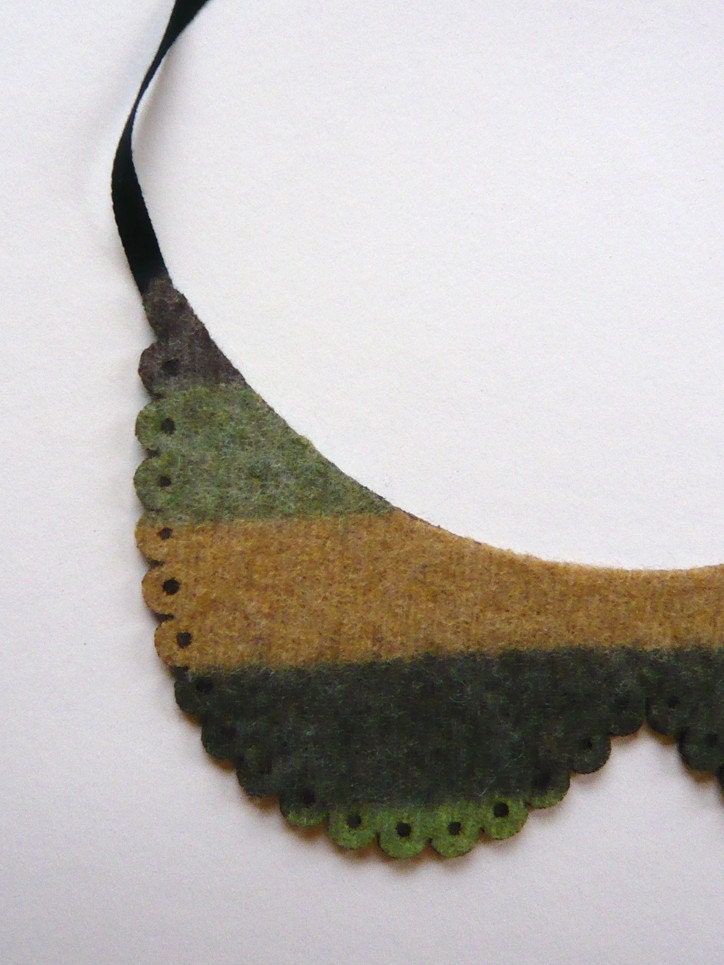 No longer available
at etsy sadly!
Send me your efforts my lovelies.......